My first book ROY G. BIV: An Exceedingly Surprising Book About Color was published by Bloomsbury in 2013.
"A rabbit hole of a good read. Color infuses meaning; meaning infuses color. Stewart has made it all the more vibrant by exploring its interpretations." – Chicago Tribune
"Stewart's well-designed book is visually stimulating and surprising, reminding readers that colors are still as fascinating and fun as they were in grade school." – Publishers Weekly
"Roy G. Biv belongs in every design junkie's home." – Chicago Home + Garden "Domestica" blog
"In an artfully designed work, factoids and myths about color are brightly packaged in a format with eye-catching typographics… [Stewart's] research into the associations and meanings of color is extensive." – Kirkus Reviews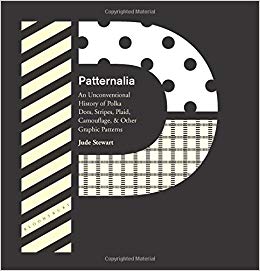 Patternalia:An Unconventional History of Polka Dots, Stripes, Plaid, Camouflage & Other Graphic Patterns was published by Bloomsbury in 2015.
"Stewart's exceptional authorial ability to string it all together [makes Patternalia] feel both cohesive and wildly exciting." – AIGA Eye on Design
"A new book that dives into the history of these oft-overlooked design motifs of everyday life…Plainly fascinating." – Quartz
"A brisk flip through the sampler of patterns we take for granted every single day." Toronto Globe and Mail
"As author Jude Stewart reveals in her new book Patternalia, the backstories [of patterns] are as varied and complex as they are revealing." – Fast Company Co.Design
"In this delightful romp through the world of textiles, Stewart (ROY G. BIV) shows how patterns crisscross the globe…A true treasure for readers interested in design or fashion." – Publishers Weekly